The Golden Circle is the most popular day tour in Iceland and for good reason. Not only do you get to see some of the most amazing natural and historical wonders of Iceland, it's also a convenient distance from Reykjavík. The Golden Circle is a 300 km looped route. It covers three main locations: Þingvellir National Park, the waterfall Gullfoss, and the erupting geyser Strokkur in Haukadalur.
Þingvellir
Þingvellir (pronounced Thing-vet-leer) is a historical and geological marvel. Situated right where the tectonic plates separate, the rift between continents is clearly visible in the dramatic cliffs on either side of the valley. This makes for stunning landscapes, with cascading waterfalls, majestic cliffs, and fissures, filled with icy blue, clear water.
Not only is Þingvellir impressive to look at, it also has a long history, interwoven with the history of Iceland. The name translates to Parliament Fields, as for centuries, it was the meeting place of the Icelandic Parliament, founded in 930. Some of the biggest decisions in Icelandic history were made at Þingvellir. It was there that the Icelandic chieftains decided that Icelanders would convert to Christianity, it was where they decided to give up their independence in 1262 and where they declared independence from Denmark seven centuries later, in 1944.
Gullfoss
Next up is Gullfoss waterfall (Icelandic for Golden Waterfall). It's a magnificent reminder of the awe-inspiring power of nature, with a huge amount of water thundering down into a jagged canyon. The power of the waterfall was enticing to entrepreneurs in the early 20th century, and plans were made to harness it and convert it to electricity. Fortunately, people spoke up and protested destroying such an impressive natural wonder, one of the most vocal protestors even went so far as to threaten to throw herself in the waterfall. Thanks to her fight, the Icelandic government acquired the waterfall in 1940 and it has been on the state preservation list since 1979.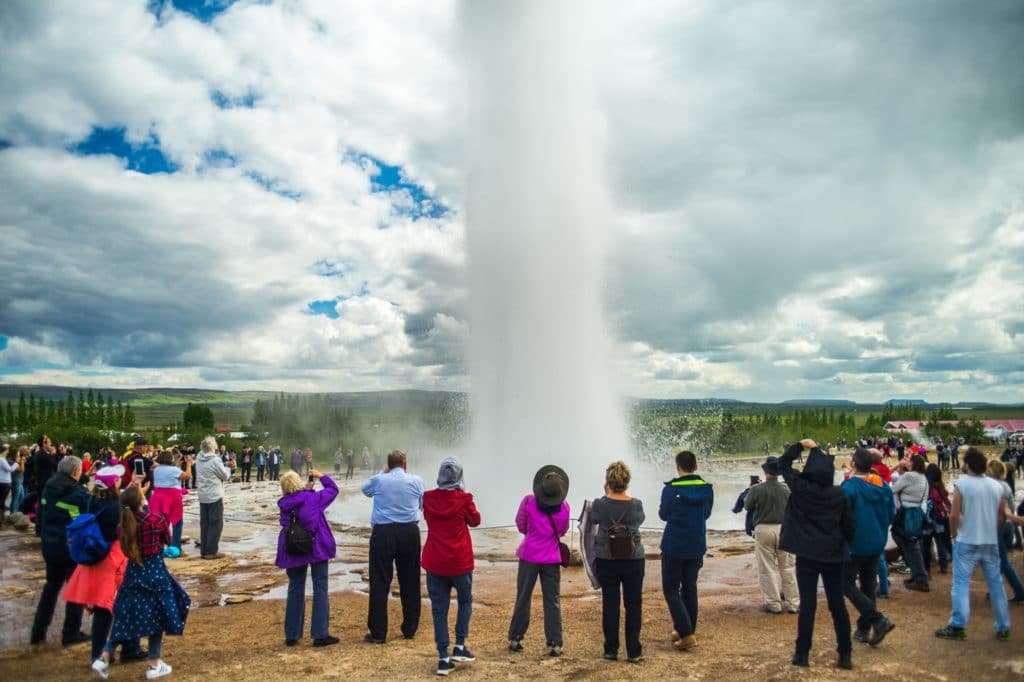 Geysir
Geysir is an erupting hot spring (it's actually the erupting hot spring, lending its name to geysers around the world) although these days, it doesn't do a lot of erupting. Its neighbour, Strokkur, however, gladly puts on a show every 6-10 minutes, in an impressive spectacle of a burst of hot water. The area also has several pools of water ranging in temperature from too-hot-to-touch to boil-you-alive-in-seconds; some bubbling, others still and impossibly clear.
After Geysir, it's time to head back to Reykjavík or continue exploring the south of Iceland. Go swimming in a warm pool surrounded by nature, go snowmobiling on a glacier, or have a delicious langoustine (Icelandic lobster) dinner in a tiny fishing village on the shore.