Reykjavík and the surrounding area offer plenty of activities as well as standard day tours. Many of these activities can be added onto day tours, making for a fuller day with more than just enjoying breathtaking nature, while other require a longer time or more dedication. There are also a few things that you can do on a whim, and that don't even take too much time. Don't worry, there'll be plenty of things to do!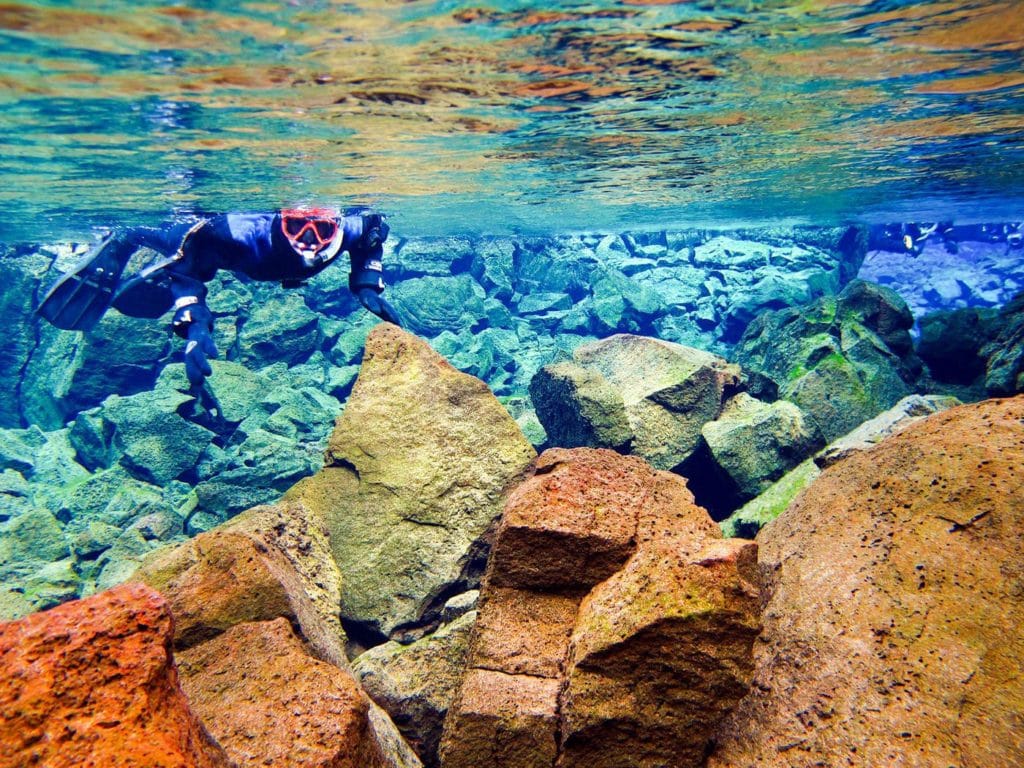 Snorkelling and diving in Silfra
Snorkelling – it's not just for the tropics anymore! Good news for everyone, from experienced divers to novice adventure seekers; the fissure Silfra is not only a world-class diving location but ideal for snorkelling tours as well. The crystal-clear water offers over 100m of visibility! Don't miss out on floating along the fissure and seeing the amazing world underneath ours. Silfra is a world-renowned diving site, for those who want to experience it full force and have the necessary permits! (A dry suit permit is needed to dive in Silfra, but everyone can snorkel.) Several tour operators offer day tours to Silfra all year round.
Horseback riding
Not only is the Icelandic horse a horse of a different colour, it's a horse of an entirely different genetic makeup. Having been bred in almost perfect isolation for over 1,000 years, the Icelandic horse is unique in many respects. They are notably well tempered and relatively small (you shouldn't fall off, but even if you do, you won't fall far!), though they are probably most famous for their unusual fifth gait: the tölt. Tölt is a way of walking unique to the Icelandic horse, which keeps the rider stable while manoeuvring easily over Iceland's uneven landscape.
ATVs in all terrains!
ATVs, four-wheelers, quad bikes… whatever you call them, they're always a fun ride! Just a stone's throw outside of Reykjavík, you can take your road rage to the lava fields where these powerful machines eat up the terrain. Quad bikes open a world normally hidden from the average traveller; driving along a black sand beach or on a seldom travelled mountain road is an unforgettable experience!
Caving
Underneath the mountains and lava fields is an incredible subterranean realm that just begs to be explored. Iceland has 500 known lava caves, but that's a mere 5% of the estimated total of 10,000. Navigating these caves is a great way to experience firsthand how the land formed from the molten lava, cooling and freezing time forever. It's a great adventure and everyone should try it!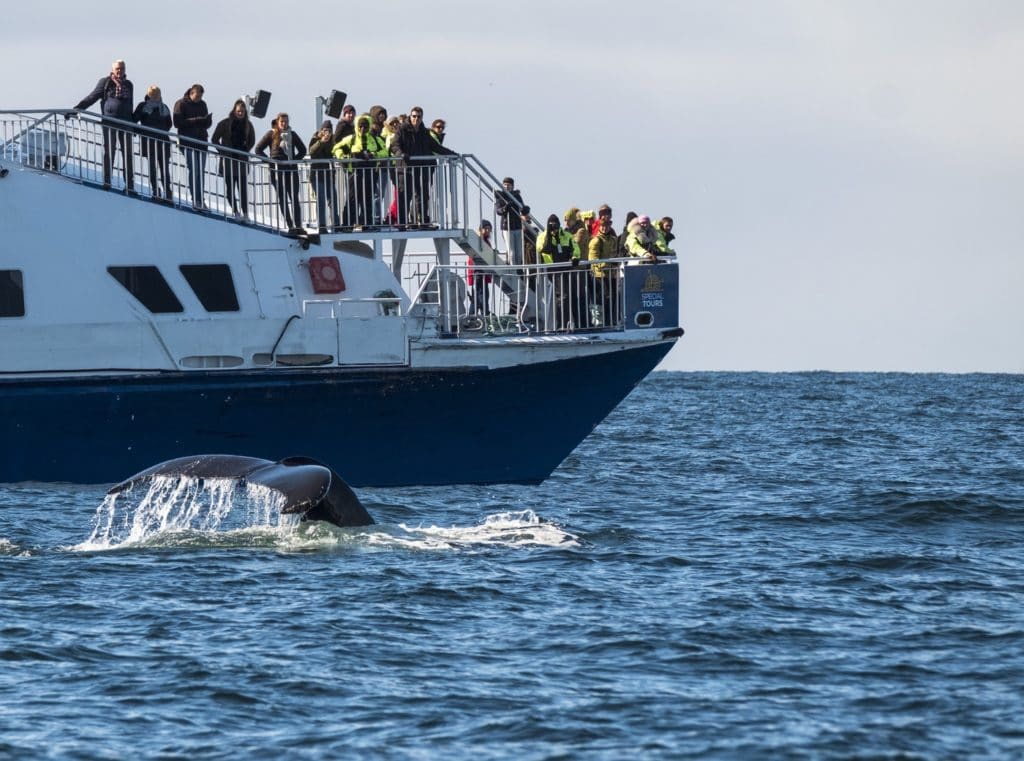 Whales, puffins, and sea angling
The ocean surrounding Iceland is a fantastic place to go whale watching. The most frequently seen cetaceans are minke and humpback whales and seeing these giants of the ocean in the wild is an unforgettable experience. You can also take a dedicated puffin watching tour, which takes you out to the puffin colonies on the islands outside Reykjavík in the breeding season, from mid-May to mid-August. Finally, if you'd rather taste the sea's creatures than look at them, sea angling boat tours from the old harbour let you catch your own fish, and have it cooked for you right there on the boat!
Iceland's volcanoes
Iceland is one of the most volcanically active places on earth with more than 30 active volcanoes. The most famous one is probably Mt. Eyjafjallajökull, which temporarily halted Europe's air traffic in 2010. Other notable volcanoes include Hekla, widely considered to be the entrance to hell in the Middle Ages, and Bárðarbunga, which erupted in 2014. Several superjeep excursions, scenic flight tours, and helicopter tours will take travellers out to these wonders of nature to enjoy their raw power and grotesque beauty. If seeing these volcanoes isn't enough for you, there is always Þríhnúkagígur, the only place on earth where you can go inside the chamber of a dormant volcano.
Geothermal power plants
The columns of steam rising from the geothermal plants at Nesjavellir and Hellisheiði are a magnificent sight. You can take a tour of The Geothermal Energy Exhibition at Hellisheiði, a state-of-the-art geothermal power plant. The plant shows how geothermal energy is harnessed in a sustainable manner in Iceland, a showcase for other places that have access to geothermal energy. The area is also an excellent hiking and outdoor destination with trails varying in length and difficulty, and trail maps are available on-site.
Iceland's glaciers
Glaciers cover about 11% of Iceland's surface. Iceland is home to the largest ice cap in Europe, Vatnajökull, in addition to other formidable ones such as Langjökull, Mýrdalsjökull, and Snæfellsjökull. You can barely go anywhere in Iceland without spotting one of these ivory behemoths in the distance, but if you want to get up close and personal, take a guided glacier hike tour, go ice climbing, or snowmobiling. You can even go on a unique tour to the heart of Langjökull glacier through a man-made tunnel with tour company Into the Glacier. Just remember, don't try to go on a glacier without a certified guide!
Food & culture tours
Iceland's cuisine is unique and fascinating. Smoked, cured, dried, salted – meat, fish, or bread, there are many unusual and delicious combinations to choose from. Take a guided food tour which samples the different flavours of the local cuisine in chosen locations. Smoked lamb is delicious and dried fish chips will surprise you, but fermented shark and an accompanying shot of Brennivín schnapps are an acquired taste! You can also visit one of Iceland's many microbreweries and have a beer tasting session.
City tours
Reykjavík is a fantastic little city, different from other capitals in Europe. Guided tours focus on major sights, culture, and history, the city's little-known secrets, or even good places to party, depending on each tour. There are tours on foot, bike, or Segway, to name just a few. Keep your eyes peeled for the tour that appeals to you.
Jeep tours
Iceland's rugged and untamed nature can be hard to navigate in a regular vehicle. This is why you will see so many modified superjeeps around, capable of traversing unbridged rivers, drive up on mountains and generally get around on rocky mountain roads. It's easy to take such a tour up onto volcanoes and glaciers, into the untouched wilderness of the highlands, or to caves, waterfalls, and other inaccessible natural phenomena.
Scenic flight tours
There's nothing like taking scenic flights by plane or helicopter to enjoy the grand vistas of Icelandic nature. You get to experience natural wonders that aren't easily accessible by land, get the bird's-eye view of mountains, glaciers, and waterfalls, all in just a fraction of the time it would take you to make the trip by car. Whether you take a scenic flight or a helicopter tour, it's going to give you a unique sense of the scale and power of this wild and untamed land.
Snowmobiling
For those who aren't content to just look at this island's magnificent nature, one of the most exciting ways you can experience it is by snowmobiling on a glacier. This adventure excursion will take you on an adrenaline-filled ride while allowing you to experience the glacial landscapes in a unique and wonderful way.