Just off the city centre lies Reykjavík's old harbour area. Known as Grandi (which is Icelandic for isthmus, a narrow strip of land connecting two larger bodies of land), the land was originally just a stretch of sand connecting Reykjavík to Örfirisey island but has been added to considerably in the years since. For decades, this was simply an industrial neighbourhood with fish processing plants and shipyards, but when the new harbour by Sundahöfn was built, much of the industry was moved there, leaving empty buildings in a popular area waiting to be repurposed.
The conditions were perfect for a revival of the old harbour and soon enough, people started using the spaces for exhibitions, designers opened workshops, students worked on start-ups and restaurants started opening up to feed all the people working in the area. Fast forward a few years and the old harbour is one of the most exciting neighbourhoods in Reykjavík. It still retains its dockside charm and more than a whiff of the fishing industry's presence, but a steadily growing number of museums, hip restaurants, and artisans' workshops have made their home in the vacated industrial buildings, making Grandi one of the hottest spots in the city.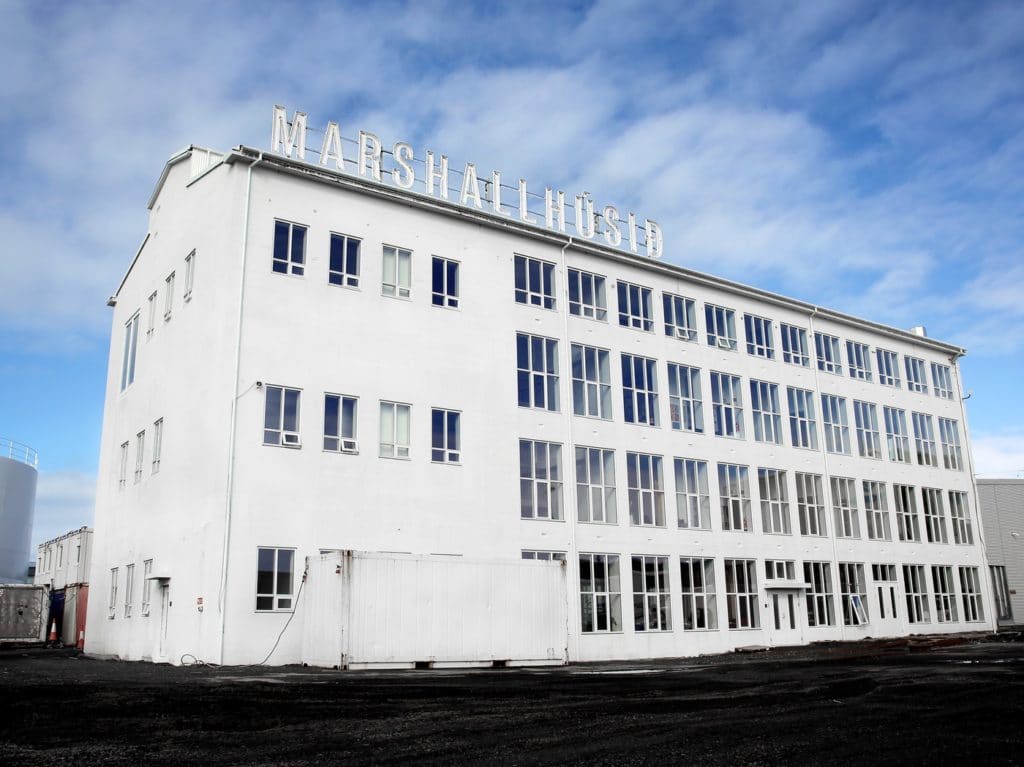 Art and culture
Art and all sorts of creative thought are a big part of life in the old harbour district. Not only is there art inside the buildings in the area, but on the outside of them as well, with huge street art murals decorating various buildings around the area. There are also large outdoor art pieces such as Ólöf Nordal's Þúfan (The Hillock) pleasing the eye. The old harbour is home to plenty of artists' workshops as well as the Reykjavík School of Visual Arts and The Marshall House.
Originally built in 1948 as a herring factory, The Marshall House is one of the beautiful old factory buildings in the old harbour. It is one of the buildings that has gotten a new lease on life with the changes at the old harbour and today it houses The Living Art Museum, the gallery Kling & Bang, and Ólafur Elíasson's studio, as well as a restaurant. Enjoying the fresh flavours of Icelandic seafood after enjoying artworks, while looking out large windows over the harbour is going to be the cherry on top of your visit to the old harbour. The building is named after George Marshall, an American general whose plan to build up Europe's economy after World War II was very beneficial to Iceland's economic growth in the 1940s and 1950s.
In addition to art museums and galleries, the old harbour also boasts historical and natural museums. There's no better place for the Reykjavík Maritime Museum than the old harbour – you can smell the fresh sea air as you learn all about the fascinating story of Icelandic fishermen, who've been risking their lives on the open ocean for centuries. You can even take a tour of Óðinn, a former Icelandic Coast Guard vessel from the 1950s, that played an important role in Iceland's struggle with the UK over the rights to fish in the sea around the island. In addition to the Maritime Museum, you can visit an exhibition on the northern lights, check out Whales of Iceland, a hall filled with life-size models of whales, and learn more about Iceland's history at the Saga Museum.
Eating and drinking
Some of Reykjavík's most exciting eateries have opened in the old harbour area in the past few years. Not only can you find fine dining, everyday grub and everything in between, but there are also some specialty food stores that will make your mouth water. Try some new Nordic food, Icelandic style, or get some sourdough sandwiches that will knock your socks off. Eating fresh Icelandic fish in the harbour surroundings is a life-affirming experience and don't forget to stop by a cake shop or ice cream store for some dessert. If you've satisfied your hunger but are still feeling thirsty, you can get some in-house brewed beer or innovative cocktails. Try one with an Icelandic spirit – maybe a birch-flavoured liqueur or even Iceland's famous Brennivín.
The Grandi Food hall gives your whole group a chance to taste what they want in one stop. The restaurants vary but all focus on street food. People are encouraged to try different dishes from several food stands, instead of picking just one meal at one restaurant. A handful of restaurants have been selected, and they all offer up something unusual, from a new twist on a local staple, to flavours never before tasted in Iceland.
Shopping
Amongst this interesting flora of culture and cuisine is a smattering of small workshops and quirky stores, such as designers' workshops producing clothes, handbags and homeware, a fashion label working with natural fabrics and delicatessens selling charcuterie and cheeses. You'll even find a chocolate factory selling high-quality chocolate bars and a jeweller's workshop! The best thing about shopping at the old harbour is that the shops and workshops are small and often you'll have a chance to meet and chat with the designers and store owners themselves, giving precious insight into life in Reykjavík.