Enjoy a short trip with the Elding ferry service to the lovely island of Viðey, situated in Kollafjörður fjord just off the coast of Reykjavík.
Apart from its ancient ruins and rich historical background, other attractions include impressive works of art by Yoko Ono (the Imagine Peace Tower) and Richard Serra (the Milestones project).
Fans of architecture will also be interested to learn that the church on Viðey is one of the oldest in the country and that Viðey House is the first building in the country to be constructed with stone.
With an extensive network of paths and a population of lovely resident horses, the island can be explored both on foot and on horseback. No matter which path you take, you'll be rewarded with spectacular views of the surrounding mainland, and on a clear day, you'll be able to see the impressive outline of the Snæfellsnes peninsula.
In summertime, there are daily ferry departures both from Skarfabakki pier and Ægisgardur harbour, by Harpa Concert Hall. The winter service runs on Saturdays and Sundays from Skarfabakki to Viðey. Trips to Viðey are free with the Reykjavík City Card.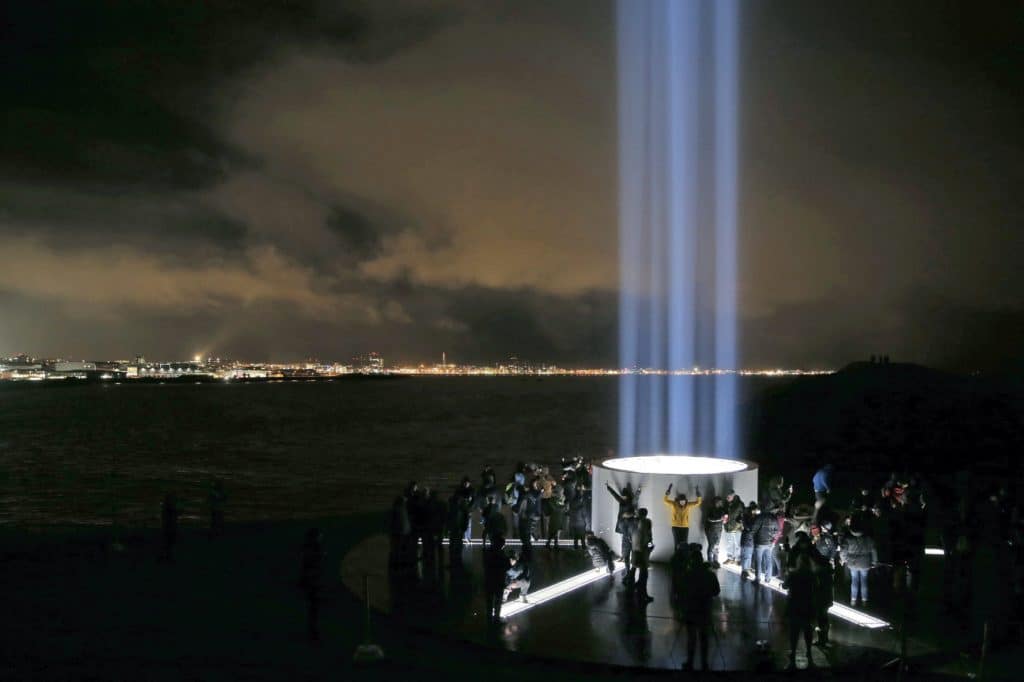 Imagine Peace Tower
The Imagine Peace Tower is a work of art that represents a beacon of world peace by legendary artist, musician, and peace advocate Yoko Ono.
The work is designed in the form of a wishing well from which a powerful beam of light shines. The words imagine peace are inscribed on the well in 24 different languages. The light tower is composed of a number of individual lights that join together to form a single beam. Six of the lights travel through corridors across a platform surrounding the well and are reflected upwards to the sky with mirrors. An additional nine lights shine straight up to the sky, strengthening the beam of light.
The strength, intensity, and brilliance of the light tower continually change as particles in the air fluctuate with the changing weather and atmospheric conditions unique to Iceland.
The inauguration of the Imagine Peace Tower took place during a private ceremony on October 9, 2007 on Viðey. The artwork was dedicated to the memory of John Lennon on what would have been his 67th birthday.
Since then, it lights up the evening sky annually from October 9 to December 8. It is also lit during the winter solstice for one week, on New Year's Eve, and during the spring equinox for one week.
The electricity for the light comes entirely from Reykjavík Energy, which produces the electricity from geothermal power. The construction and installation of the Imagine Peace Tower was done by Yoko Ono, in collaboration with the City of Reykjavík, the Reykjavík Art Museum, and Reykjavík Energy.
Ferry Info
Summer Schedule from 15 May to 30 September
From Ægisgarður 11:50 14:50
From Harpa 12:00 15:00
From Skarfabakki 10:15 11:15 12:15 13:15 14:15 15:15 16:15 17:15
To Skarfabakki 12:30 13:30 14:30 15:30 16:30 17:30 18:30
To Ægisgarður / Harpa 11:30 14:30 17:30
Winter Schedule on weekends from 1 October to 14 May
From Skarfabakki 13:15 14:15 15:15
To Skarfabakki 14:30 15:30 16:30