Situated in the middle of a lava field, the small town of Hafnarfjörður is the perfect getaway from Reykjavík. It's a lovely place to spend the day, with its vibrant town centre and beautiful culture. Hafnarfjörður is a hidden gem, containing some of the best experiences that Iceland has to offer – fresh local cuisine, great geothermal pools, lava and stunning natural phenomena, a boatload of activities as well as a yearly Viking festival! It is the third largest town in Iceland with 30,000 residents, and it's only 20 minutes away from Reykjavík city centre. Bus no 1 will take you straight to Hafnarfjörður. First and foremost, Hafnarfjörður offers a chance to experience the local lifestyle of Icelanders. Do as the locals do!
A lively town centre
A great way to start the day is a stroll along the Hafnarfjörður river, simply known as Lækurinn (The Stream). The path along Lækurinn is especially popular with families as the kids get to experience the lively birdlife. The main shopping area is Strandgata, often called the heart of Hafnarfjörður. It's a charming street with colourful old buildings filled with small boutiques – perfect for buying a local souvenir from a friendly shop owner. Many of the shops in Hafnarfjörður are tended to by the owners and designers themselves, so take your time to chat with them if you want to get to know the local community. Hafnarfjörður is also home to Fjörður mall, offering a variety of shops and services.
One part of the town centre merits special mention – the harbour. While Hafnarfjörður still has a bustling harbour, with colourful fishing boats bobbing gently by the pier, some of the older factory buildings have found new purpose. In the past few years, new and exciting cafés, restaurants, studios, and galleries have been opening their doors in this former industrial area, so be sure to take a stroll along the harbour while you're there!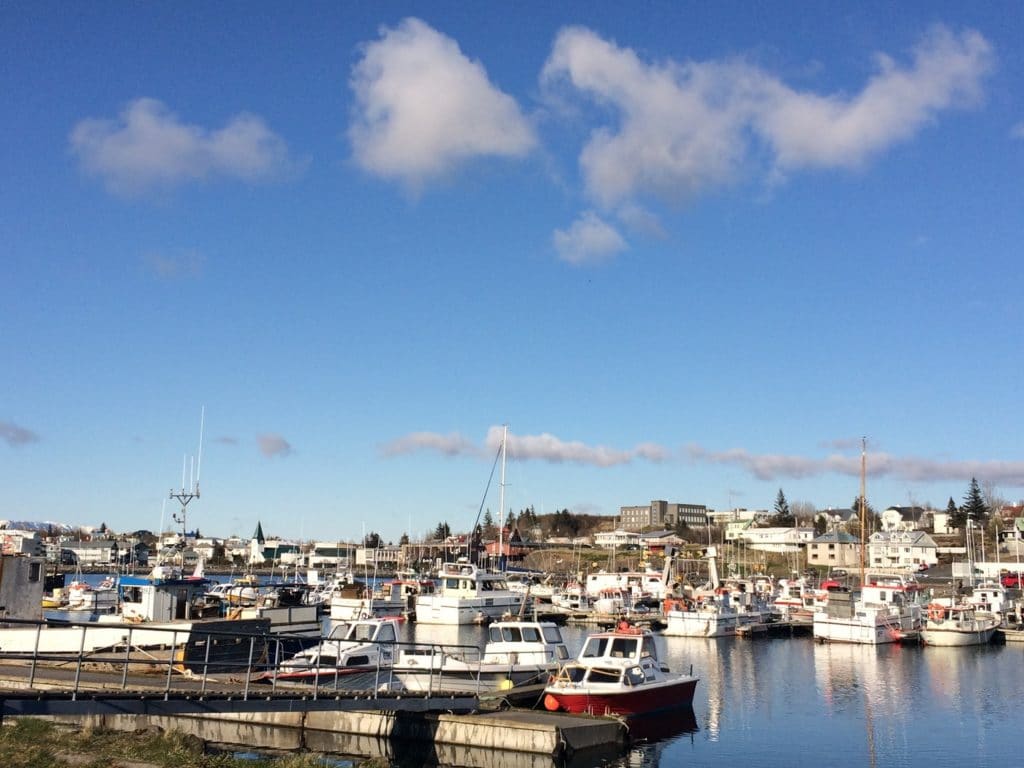 Necessary nourishment
Hafnarfjörður has a lively culinary scene that's growing every day. If you feel like breakfast, why not stop by one of the superb bakeries or cafés in town. For lunch, Hafnarfjörður has a plethora of great restaurants serving delicious food and if you want to go for a nice dinner, the town centre and the harbour area have some great options. If you just need a quick bite before heading off for your next adventure, Hafnarfjörður also has plenty of fast food restaurants where you can get some indulgent treats.
Natural beauty
Hafnarfjörður is surrounded by natural beauty on all sides, hugged by mountains, lava fields, and the seemingly endless North Atlantic. Close by the town centre is the beautiful Hellisgerði park which, according to local folklore, is populated by elves. It's a charming park full of small caves where you can get to know Icelandic flora. In the park, you'll find the Little Elf store, which sells Icelandic design focused on local folklore. Hellisgerði is perfect for family picnics, and the Little Elf store will even lend you a blanket and picnic basket!
Idyllic lake Hvaleyrarvatn, surrounded by lush nature and grey lava fields, is worth a visit as well, with its numerous trails as well as on-site public barbecue facilities. Closer to home is the dominating Hamarinn cliff, a protected natural site overlooking the harbour area. You'll see plenty of Hafnfirðingar, as the residents of Hafnarfjörður are called, out and about on these walking routes.
Plenty of people keep horses on the outskirts of Hafnarfjörður and riding tours are available. The Icelandic horse is small and friendly, perfect for beginners as well as experienced riders. Taking a ride through the lava fields of Hafnarfjörður lets you experience Iceland much like the first settlers of Iceland did.
Health and lifestyle
The residents of Hafnarfjörður like to keep active and the town's gyms are well visited. In summer, many locals take their training outside, choosing to spend their time running in the beautiful nature or practising their golf swing. Hafnarfjörður's golf course, Keilir, is one of a kind, surrounded by lava fields and with stunning ocean views.
Hafnarfjörður has an abundance of geothermal heat and the town puts it to good use with its thermal pools! Hafnarfjörður has three swimming pools, and each of them offers different qualities.
Thermal Pools in Hafnarfjörður
Suðurbæjarlaug
Suðurbæjarlaug is perfect for basking in the sun on a summer's day. There's an indoor pool, an outdoor pool, hot tubs, steam baths, two waterslides, and other toys for the kids to play with.
Hringbraut 77, Hafnarfjörður
+354 565 3080 | Open: Mon-Thu 6.30-22, Fri 6.30-20, Sat 8-18, Sun 8-17
Sundhöll Hafnarfjarðar
Sundhöll Hafnarfjarðar is Hafnarfjörður's oldest swimming pool, first built as an outdoor swimming pool in 1943 but converted to an indoor pool a decade later. With two outdoor hot tubs as well, this historic swimming pool offers plenty of opportunities to meet locals and have a quiet swim before relaxing in the hot tub.
Herjólfsgata 10b, Hafnarfjörður
+354 555 0088
Open: Mon-Fri 6.30-21
Ásvallalaug
Opened in 2008, Ásvallalaug is Hafnarfjörður's newest pool in. Ásvallalaug is particularly family friendly, with a shallow kid's pool, a wading pool, and hot tubs for the parents, all indoors, away from the elements. If you still want to get a little sun, there are also outdoor hot tubs and even a lovely sunbathing area. Ásvallalaug is the most easily accessible pool, with a state-of-the-art lift for disabled swimmers.
Ásvellir 2, Hafnarfjörður
+354 512 4050
Open: Mon-Thu 6.30-22, Fri 6.30-20, Sat 8-18, Sun 8-17
Arts and Culture
Hafnarfjörður has a rich cultural and historical heritage. The museums are top quality and as an added bonus, entrance is free! After exploring the wonderful museums in Hafnarfjörður, be sure to check out the programme at Bæjarbíó, the town's culture centre and music venue. Built as the town's cinema, Bæjarbíó is a historic building and regularly hosts some of Iceland's most popular artists..
Hafnarfjörður Museum
Hafnarfjörður Museum has exhibitions in a few old houses in Hafnarfjörður's centre, as well as on a walking path by the harbour. You have the chance to see how a 19th-century upper-class family as well as labourers and fishermen lived in Hafnarfjörður, and you can visit an exhibition on the town's maritime and commercial history plus a variety of temporary exhibitions.
Strandgata 4, Hafnarfjörður
+354 585 5780
Open: Jun-Aug, Daily 11-17
Sep-May, Weekends 11-17
Website
Hafnarborg
If you're more interested in art than history, head over to Hafnarborg, the Hafnarfjörður Centre of Culture and Fine Art, founded in 1983 on a substantial donation by Hafnarfjörður natives and art collectors Sverrir Magnússon and Ingibjörg Sigurjónsdóttir. The exhibitions include everything from classic masterpieces to experimental work by contemporary artists.
Strandgata 34, Hafnarfjörður
+354 585 5790
Open: Wed-Mon 12-17
Website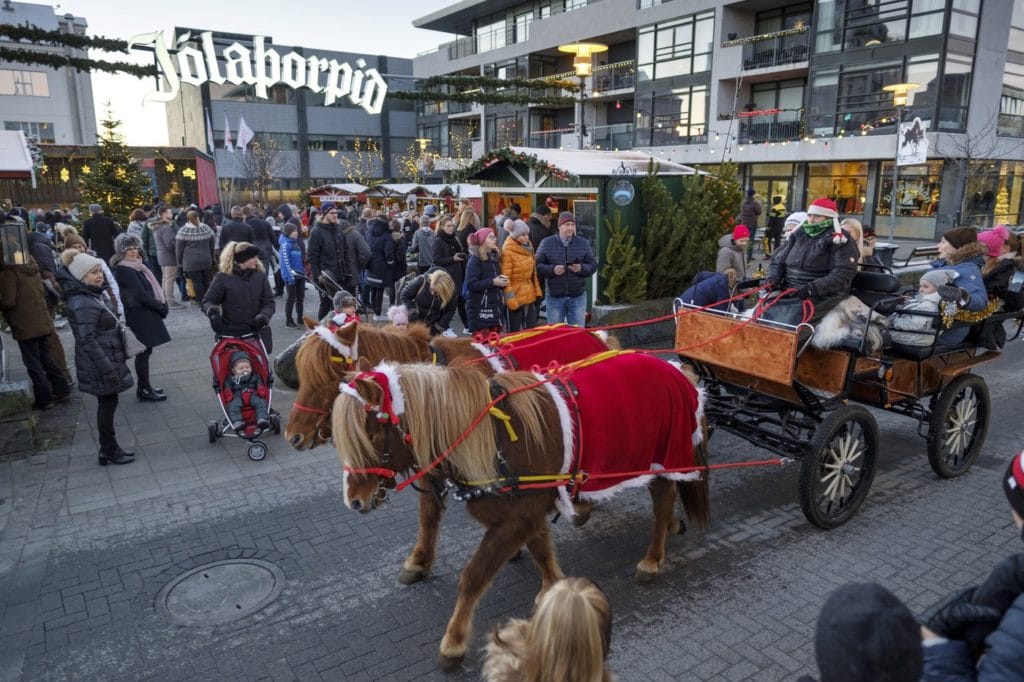 Events in Hafnarfjörður
Fishermen's Day
First Sunday in June – Every fishing town in Iceland celebrates Fishermen's day and Hafnarfjörður is no exception. Every boat is docked by the pier as fishermen and their families join in the two-day celebrations by the harbour.
Viking Festival at Víðistaðatún park
June – The Viking reenactment group Rimmugýgur hosts a Viking fair, a four-day festival celebrating the ancient rites and traditions of the Viking community. The festival setting is a market day in Viking times when ships have brought goods, foods, and people from far across the sea. Entrance is free.
Iceland's Independence Day
June 17 – The residents of Hafnarfjörður gather in the town centre as well as other locations around town to celebrate the day with a parade, live music, street art, rides for the kids, and plenty of other events.
Christmas Village
Weekends from November 30-December 23 – In the weeks before Christmas, Hafnarfjörður's town centre is transformed into a winter wonderland, with Christmas music, visits from the Icelandic Yule Lads, horse-drawn carriage rides, and stalls selling everything from Christmas gifts to snacks and hot drinks.
Museum Night
February – Hafnarfjörður's museums take part in the Winter Lights Festival's Museum Night. On Museum Night, the museums stay open until late and host special Museum Night events.
Swimming Pool Night
February – It's a similar concept to Museum Night but this time, it's the swimming pools that are open late!
At Home music festival
April – The At Home music festival, or Heima, is an intimate music festival held in private homes centrally located in Hafnarfjörður. Guests stroll from house to house to enjoy live music and meet up with locals at their own homes.
Bright Days
April – The Bright Days festival takes place around the First Day of Summer, Iceland's unique spring holiday, and focuses on the art and culture of the community. Events of the festival include artists in town opening up their workshops, concerts by popular Icelandic artists, children's entertainment, and a parade in honour of the First Day of Summer.