Domestic Air Terminal
Air Iceland Connect maintains a domestic network based in Reykjavík with destinations around the island and flights to the Faroe Islands and Greenland (some of these flights depart from Keflavík Airport). Popular destinations include Akureyri and Ísafjörður, the biggest towns in the north of Iceland and the Westfjords, respectively. Alternatively, this is also where you would go to go on a sightseeing flight or a helicopter tour.
Reykjavík Domestic Airport
+354 570 3000 | airicelandconnect.is
From & to the Keflavík Airport
The airport bus service is the most straightforward option for transfers between the airport and Reykjavík, taking you from the airport to the downtown BSÍ bus terminal, or, for an added fee, straight to your hotel. You can also grab a taxi that takes you from door to door, especially if you're in a larger group. Driving time through the mossy lava fields of Reykjanes peninsula to the capital is about 50 minutes. There are no trains in Iceland.
Flybus (flugrútan)
+354 580 5400 | www.flybus.is
Airport Express
+354 540 1313 | www.airportexpress.is
TAXIS in Reykjavík
You can get a taxi by calling a taxi company or by going to a taxi stand. During the day, taxis are stationed by many major hotels and popular attractions. At night, after the buses stop running, taxis are stationed downtown, taking people home after a night out. Taxis in Iceland accept both cash and cards.
Hreyfill-Bæjarleiðir
+354 588 5522
Bifreiðastöð Reykjavíkur
+354 561 0000
Day tour pick-up/drop-off points
To keep Reykjavík's centre safe and clean, big tour buses are not allowed to drive just anywhere. Therefore, if you've booked a day tour or airport transfer, your bus will leave from a designated pick-up point. These bright pink and blue bus stops are located in the downtown area and easily accessible. You should find one near your accommodation in the city centre.
You can find an overview of the pick-up/drop-off points on www.busstop.is.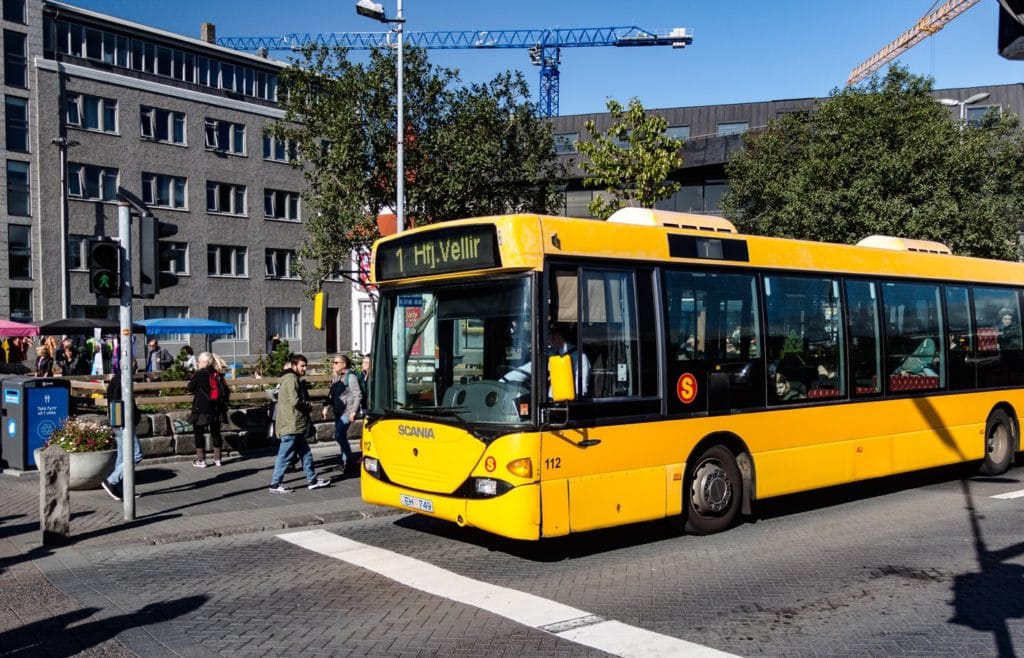 City Bus (Strætó)
The city bus is the most common form of public transportation in Reykjavík and the instantly recognisable yellow buses should be able to take you anywhere you need to go, within and outside the city limits. Bus maps are available at bus stations and tourist information centres. Most bus stops also include a route map. You can go to www.bus.is or download the Strætó mobile app and get precise directions about which buses to take as well as a live map showing the exact location of every bus in the city.
Operating hours: Daily from 6.30/7.00 until midnight, except on Sundays and most holidays, when it runs from 11.30/12.00 until midnight. There is no bus service on Good Friday, Easter, Christmas, and New Year's Day.
The night bus: The night bus system consists of six routes that operate hourly after midnight on the weekend. The buses will take passengers out of the city centre and into all the major neighbourhoods in Reykjavík, but they won't take on passengers on their way back into the centre. The night bus runs until 4.30.
Fares and tickets: A single trip costs ISK 470 at the time of writing and can be bought from the driver (who does not give change) or through the mobile app. Night buses cost ISK 940. If you need to change buses, remember to ask for a transfer ticket or "skiptimiði." The City Card provides free use of the bus system and is available for 24, 48, or 72 hours.
Going out of town: The city buses also run to some of the larger towns in the countryside. For destinations, routes, and schedules, consult www.bus.is or use the Strætó app. Prices and frequency of departure vary, depending on your destination. Tickets can be bought through the mobile app or on the bus and buses leaving the city accept cash, credit cards, and bus tickets. They also have Wi-Fi and electric sockets. Bus rides out of the city are dependent on the weather so be sure to consult the forecast, especially if you're travelling in winter.